Port Sevkabel – a waterfront wonderland
Port Sevkabel is one of St Petersburg's most innovative new projects. A multifunctional events space and creative centre situated in a cable factory on the seafront, it is one of the most popular sites in the city. I have been to numerous events and festivals at Sevkabel, but was until recently unaware of what goes on there day to day, and how Sevkabel is part of a much wider development of St Petersburg.

Why was Port Sevkabel developed?
The development of Sevkabel in 2016 has kickstarted a wider plan to regenerate St Petersburg's waterfront areas. One of Sevkabel's developers characterised the project as returning seaside spaces to the public 'in a city from which giant construction sites stole the sea'. The project was conceived in part by Хвоя Architectural Bureau. Since then, Хвоя have been shortlisted in 2018 architectural competition «Парковая линия» (Park Line), which planned the redevelopment of the docklands into a recreational space and a waterfront walking route. 
The opportunity to develop Sevkabel into a creative centre has encouraged corporations to use their influence for the benefit of the community. In 2016 Sevkabel's owners were convinced not to convert the site into offices, but to 'make a space with a meaning that will not be enclosed in itself, but will become a cultural generator and affect the quality of life and the development of neighboring sites'.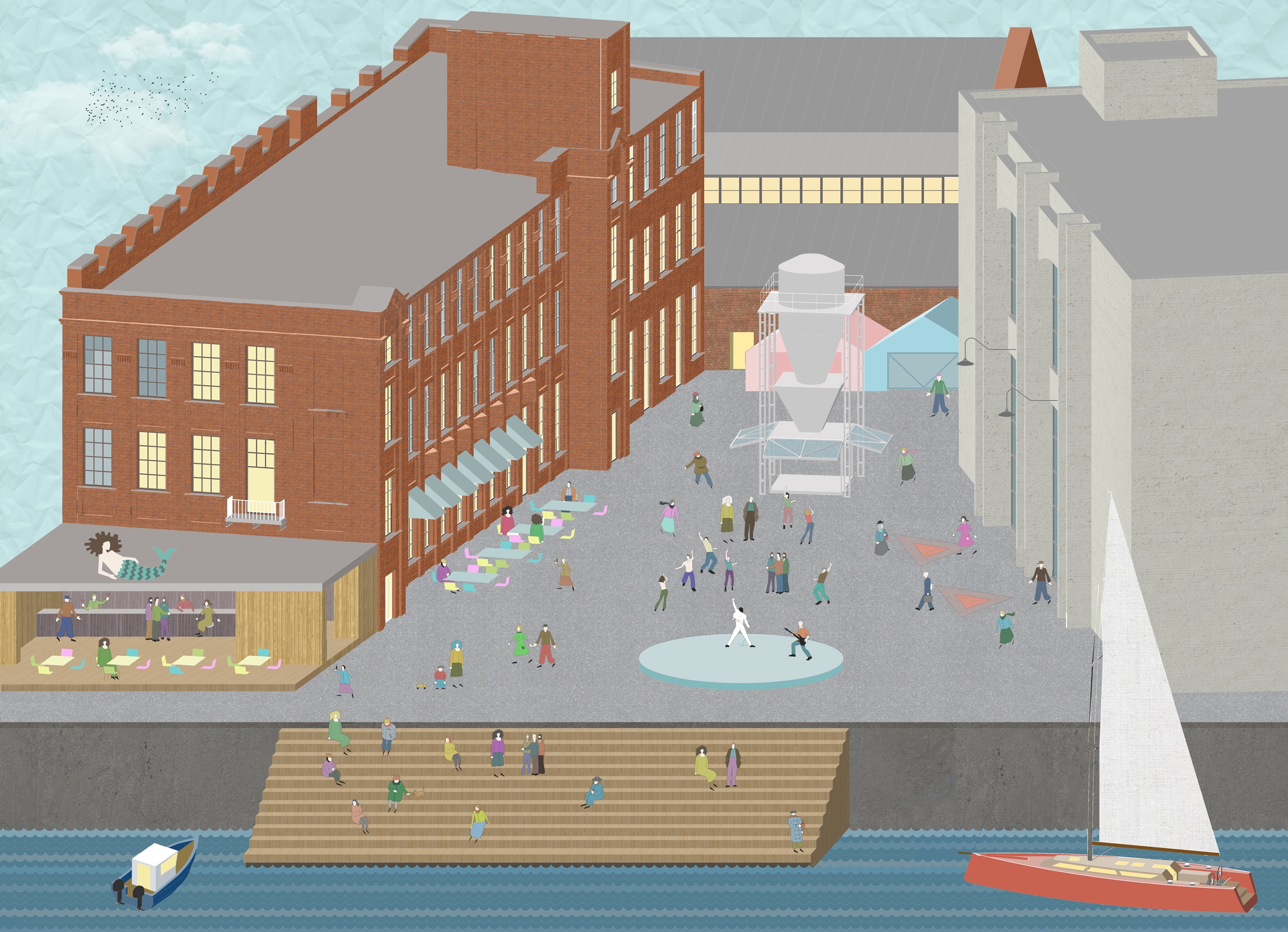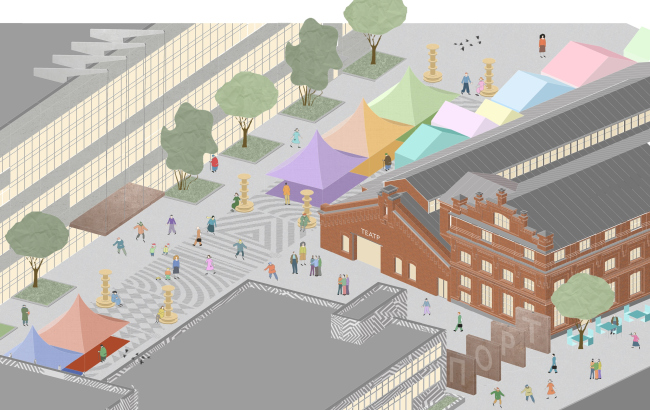 How was Sevkabel designed, and what is it used for?
Хвоя cited the importance of retaining the factory's industrial heritage. Sevkabel played a key part in the modernisation of St Petersburg: the cables produced there facilitated the city's first trams, the lighting of the Winter Palace and Nevsky Prospekt,  the first telegraph network between St Petersburg and Moscow, and provided electricity to Leningrad during the Blockade.
Developers have continued the site's heritage of modernisation by adapting the existing territory rather than starting from scratch. They say that Sevkabel's distinguishing feature is that it is 'not the usual "art cluster on the ruins of a plant", as often happens, but it is the result of modernization of the plant'. 
The decor preserves Sevkabel's authentic industrial heritage. Old factory equipment such as coils of cable, beams, bricks remain on site, and gigantic murals add a splash of colour to the concrete walls, mixing the old with the new. Even the furniture from the factory's former research institute has been reused by local businesses who've set up shop in Sevkabel. 
The largest factory comprises a cavernous 200x50m space with 10m high ceilings. On its first floor are frequently held large events and markets, and the second and third floors are used for exhibitions. The long red brick warehouse hosts exhibitions and concerts. In the former research institute there are many independent businesses and restaurants. These spaces are open every day, regardless of whether there are specific events being held.
Sevkabel's dockland location was ideal for the creation of an open waterfront promenade. Spanning the entire length of the site, the promenade offers enchanting views over the Finnish Gulf and doubles as an event space. To fully appreciate Sevkabel's seaside location, during the summer season it is possible to travel to the site via boat from the Hermitage.
Just a couple of events which take place annually at Sevkabel include Urban Culture Festival, and Present Perfect Festival.
At Urban Culture Festival, Russian bands play all genres of music on the promenade and in the warehouse. Inside the main factory are skateboarding, basketball and dance competitions and graffiti walls, and in the other buildings are tattoo studios, local clothing boutiques and food trucks. UCF was the first time I visited Sevkabel, and seeing the industrial setting so full of life and colour was brilliant.
Present Perfect Festival is one of the city's most famous parties. It was relocated from the Street Art Museum, as festival organiser Artem Kriuchkov said that the atmosphere and architecture of Sevkabel perfectly suited the music and artistic ideas of the festival. Scenery and decor was created by one of Sevkabel's oldest residents, Sergei Rublev. 
So, what can you find at Sevkabel day-to-day?
Project manager Aleksei Onatsko placed emphasis on the 'port' aspect of Sevkabel, as 'a metaphor for a place where different flags, different people and different functions meet, communication takes place, trade and new connections arise.' Resident Yuri Pavlov says that there is no similar place in the entire city so close to the water, with historical heritage, and a cool atmosphere. 
Sevkabel's first open day, held on 28-29th September, really reflected the site's ethos and the diversity and opportunity offered there. The organisers encouraged people to 'come and see with their own eyes how the Port lives every day, not just on the weekends.'
Every single building was opened up, offering exhibitions, pottery workshops, sewing classes, beer masterclasses, bookswaps, film screenings, educational lectures and more. Sevkabel is also a family-friendly space, and there were many activities for children in the site's family zone. As part of the open day, club complex «КПД» (a venue famous for its 30 hour techno parties) hosted a free party with its resident DJs. Visitors can rent bikes to ride around the site, and during winter an ice-skating rink is set up on the waterfront. 
There is a diverse range of restaurants and cafes at Sevkabel. You could visit dog-friendly vegan cafe 'Grün' (what's not to love?), have all-day brunch at 'She Ra', or veggie Georgian food at 'Dze'. I would highly recommend Israeli street food cafe 'Easy Hummus', where I had a huge pan of shakshuka for 300 roubles (less than £4).
What exhibitions are on at the moment?
Waterfront / Водная линия
This exhibition explores the nature and community-centric development of St Petersburg's waterfront. It exhibits the research of four groups who were assigned different regions of St Petersburg and spent several months researching their region and getting local people involved with the projects. It is part of a wider project commissioned by the Institute for Street Art Research and Danish Institute of Culture in St Petersburg looking into development of coastal areas, social issues and urban change.
On until 31st October.
Дорога через войну
A three-dimensional panorama visually tracing the events of the Second World War in Russia. From village life to battle scenes, with replica or original military equipment and sound effects. The panoramas are based on the memoirs of war veterans and information from state archives.
On until May 2020.
Presence: International Festival of Contemporary Photography 
An annual festival supported by local company FotoDepartment, which aims to explore photography's role in the cultural, social, and digital environment of today's world and expand the professional field to a wider audience. There will be exhibitions, theatre performances, art laboratories, lectures by artists, curators and industry experts from Russia and elsewhere in Europe.
On from October 25-November 4.
———–
As you can see, Sevkabel is a pretty unique place. It combines urban improvement with recreation, merging St Petersburg's heritage with present day culture. Residents describe the space as 'some kind of ecosystem – a family or at least a friendly community,' and you'll certainly experience this atmosphere when you're there. Make sure to check out their website for news of upcoming events, exhibitions, parties and festivals, and drop by any day of the year to find out what else awaits you there – you won't be disappointed. До встречи, Rachel.
Where to find it:
Kozhevennaia Liniia, 40
St Petersburg
199106
Website: